ABOUT
1941 Tirebolu - 2007 İstanbul
Born in Tirebolu in 1941. Graduated from the High Painting Department of the Istanbul State Academy of Fine Arts in 1966. He became known for his paintings reflecting the socio-political reality of the 1960s. He won the State European Competition in 1969 and conducted professional studies and research in Paris and European countries between 1970-1974. He continued his studies with S.W Hayter at the Penture, Engraving and Lithography workshops of the Paris Academy of Fine Arts and at the "Atelier 17" in Paris. He opened personal and group exhibitions. He participated in La Jeune Peinture, Realitées Nouvelles salons and international exhibitions.
"Place of Painting in Today's Society", which he started in 1971 at the Faculty of Plastic Arts at Sorbonne University PhD thesis He completed it in the Painting department of Istanbul State Academy of Fine Arts in 1978. In 1974, he took office at the Istanbul State Academy of Fine Arts. He worked as a lecturer in oil painting and engraving workshops. In 1979, he received the title of proficiency in art (doctorate) in the Painting Department of the State Academy of Fine Arts, and in 1981 he graduated from the Mimar Sinan University Fine Arts Faculty Painting Department. In 1985, he became an assistant professor and in Mimar Sinan University Fine Arts Faculty Painting Department and started to work as an associate professor at the same faculty. İşler worked in Paris National Academy of Fine Arts "ENSBA", Paris National School of Decorative Arts "ENSAD" in 1989-91 and Sorbonne University, Faculty of Plastic Arts, as a lecturer and guest artist. He participated in many exhibitions, biennials, fairs and art conferences at home and abroad. He produced works of universal understanding and abstract expressionist tendency in contemporary painting. His works have taken place in the world's leading museums and galleries. In 1988, an oil painting was exhibited by Galeri Montenay at the Montrouge Hall in Paris. Opened in 1992 at the Bibliotheque Nationale in Paris, "De Bonnard a Bazelitz"; represented Turkey in the exhibition. He became a professor at Mimar Sinan University Fine Arts Faculty Painting Department in 1992. He retired from his job here in 2003. Between 2004-2007, he worked as a professor at the Faculty of Fine Arts at Beykent University.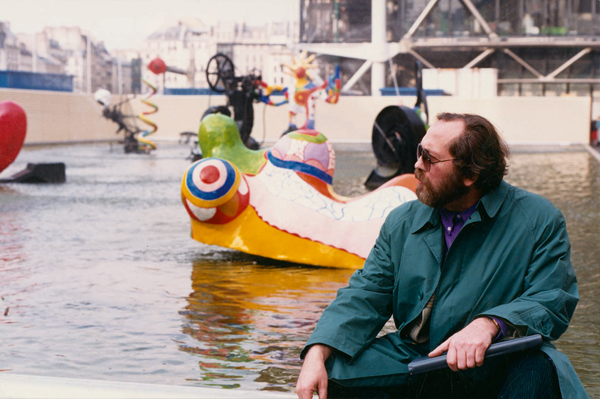 Asim Isler, La Fontaine Paris
İsler has made a great contribution to the promotion, education and institutionalization of the contemporary art of painting in Turkey. He opened 33 personal exhibitions and took part in more than 100 group exhibitions, fairs and biennials. He became a founding member of the Visual Arts Association, which was founded in 1975, and took part in its management. He also took part in the establishment of the International Plastic Arts Association, which started its activities in 1986. He passed away in 2007 in Istanbul.